Ring In The Chinese Lunar New Year!
 Happy Lunar New Year : Your Questions Answered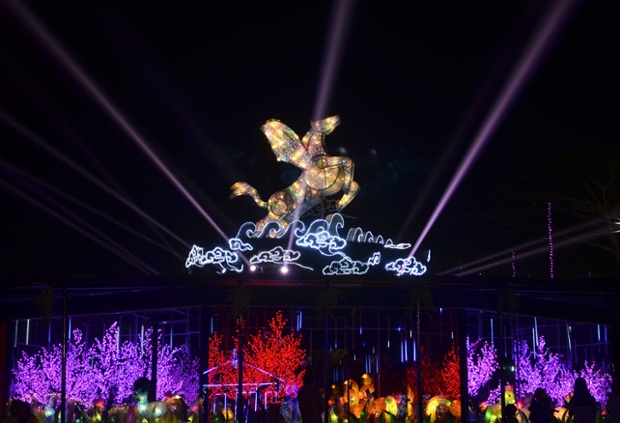 A neon horse is lit up at the Fo Guang Shan Dong Zen temple in Klang, Malaysia,to welcome in the year of the horse. Photograph: Asyraf Rasid/Corbis
Who celebrates this event?
In China, the festivities are known as spring festival (春節) or Lunar New Year (農曆新年) — the new year is determined by the lunar calendar.
The Chinese aren't the only ones who observe it. From late January to mid-February, Korea, Vietnam, Japan and other countries celebrate Lunar New Year.
Families give out lucky money in red envelopes with their family name and good luck messages written on them in gold, but only to the unmarried and children of the family.
Why does the date of the Lunar New Year change each year?
Lunar New Year for 2014 begins today, January 31st and continues through February 14th. The first day of Lunar New Year is always between January 21st and February 21st, coinciding with the first new moon – the darkest day – between these two dates.
What is the Chinese Zodiac?
Each year corresponds with one of the 12 Chinese zodiac signs and animals. Each sign is believed to influence the personalities of those born in those years. In 2014, it will be the year of the Horse. Those born under this sign are known to possess good communication skills and are cheerful and stubborn. They crave success, and they are popular and talented. Which sign are you?
What are some wonderful Chinese Lunar New Year greetings?
Best wishes for the Year of the Horse : 马年大吉 Mǎ nián dàjí
Greet the New Year and encounter happiness : 迎春接福 Yíngchúnjiēfú
May you realize your ambitions. : 大展鴻圖 Dàzhǎnhóngtú
Enjoy good health: 身体健康 Shēntǐ jiànkāng
Celebrate By Attending These Local Events:
Saturday, February 1 : Oriental's a town that celebrates New Year's twice. First on December 31 and then again when the Chinese Lunar New Year happens, a date that depends on the moon's phases. Since 2011, Oriental has marked this other new year with a dragon run down Hodges Street. This year, the crew is tweaking the Asian Lunar New Year because of the dose of cold reality from Mother Nature. The Chinese New Year Dragon Run is re-scheduled for Saturday Feb 1, at 1:30 p.m.  Oriental's Chinese dragon will be running down Hodges Street to welcome in the Year of the Horse. For Directions to Oriental click here.

Tickets for 2014 Greenville Chinese New Year Celebration are on sale now. The celebration event will be held on Sunday, February 2, 2014 at 3 p.m. The celebration consists of two parts – a stage show in ECU Wright Auditorium followed by a Chinese New Year buffet dinner in Hibachi Grill at 6 p.m. The admission for the stage show is free. Tickets are required for the celebration buffet dinner at Hibachi Grill. Note that Hibachi Grill has prepared a special menu for this event that features traditional Chinese dishes and, in addition, we have reserved the entire restaurant for that evening and tickets are required to enter this private event. This event is brought to you on behalf of Greenville Chinese School and ECU Chinese Student and Scholar Association.
The ticket price is $10 for adults, $5 for children (12 years old or younger) and free admission to children ages 3 or under.  You may purchase tickets at one of the following locations on ECU campus during working hours on weekdays, please note that exact change is very much appreciated. For Ticket Information on this event click here.
Other Events:
Sunday, February 2, Noon until 5 p.m.  Groundhog Day at the North Carolina Museum of Natural Sciences in Raleigh. Sir Walter Wally's Shadow ceremony is at 1 p.m. This is a free event.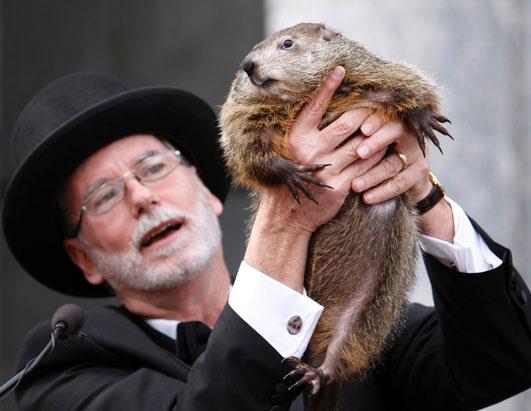 Sir Wally is pictured above courtesy of N.C. Museum of Natural Sciences.